The Anatomy of a Label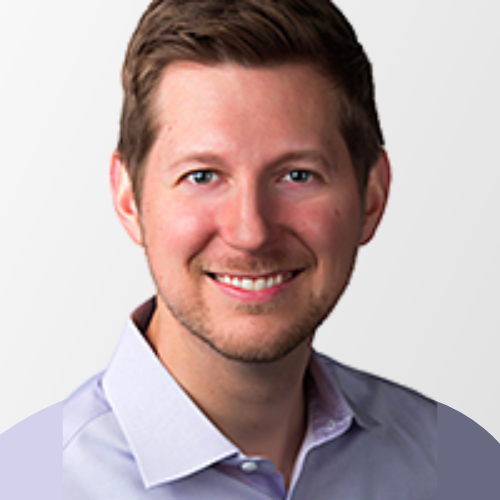 by Keith McCauley
September 8, 2020
, Updated November 3, 2022
So you're about to design your first label, or maybe you're ready to take your label design to the next level. In either case, to create your label, you need to know its parts, and THAT is why I have created this infographic that shows the anatomy of a label. When you're done with this article, you'll know how to put all the right pieces in all the right places.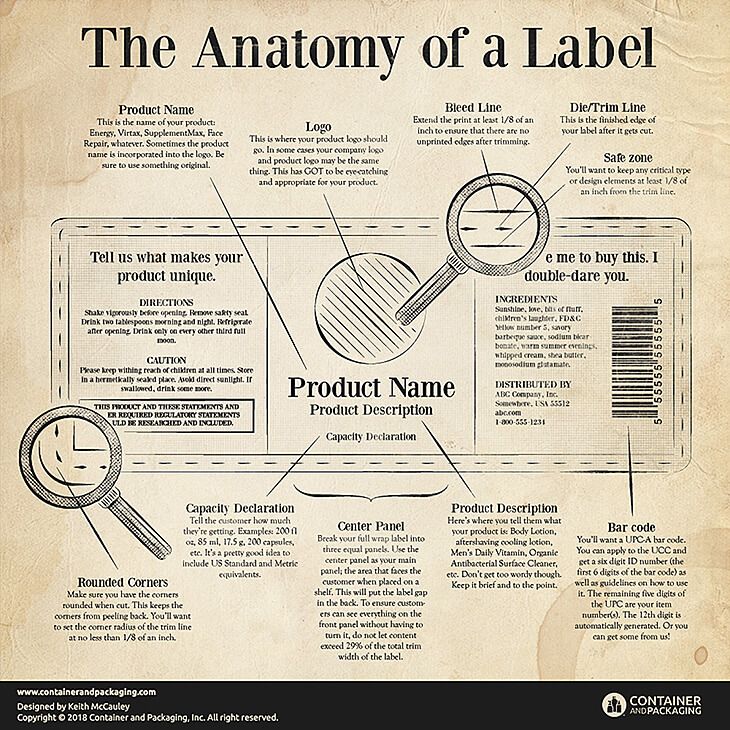 I've written about this before, but it never hurts to review. This article focuses on the different anatomical aspects of a label, but if you'd like an overview of the steps you'd want to take in navigating an awesome program like Adobe Illustrator to get a label design going, then check out Infographic: 8 point checklist to making the perfect label.
So what are the different elements of a label? I thought you'd never ask. Ahem ¦ allow me to enumerate:
Logo: This is where your product logo should go. In some cases your company logo and product logo may be the same thing. This has GOT to be eye-catching and appropriate for your product.

Product Name: This is the name of your product: Energy, Virtax, SupplementMax, Face Repair, whatever. Sometimes the product name is incorporated into the logo. Be sure to use something original.

Product Description: Here's where you tell them what your product is: Body Lotion, aftershave cooling lotion, Men's Daily Vitamin, Organic Antibacterial Surface Cleaner, etc. Don't get too wordy though. Keep it brief and to the point.

Capacity Declaration: Tell the customer how much they're getting. Examples: 200 fl oz, 85 ml, 17.5 g, 200 capsules, etc. It's a pretty good idea to include US Standard and Metric equivalents.

Barcode: You'll want a UPC-A bar code. You can apply to the UCC and get a six digit ID number (the first 6 digits of the bar code) as well as guidelines on how to use it. The remaining five digits of the UPC are your item number(s). The 12th digit is automatically generated. Or you can get some from us!

Regulatory Statements: You'll want to do your research so you know what you need to add as far as cautions, directions, ingredients, and any other government mandated statements. I like to put these statements on the right and/or left panels.

Bleed line: Extend the print at least 1/8 of an inch to ensure that there are no unprinted edges after trimming.
Die/Trim Line: This is the finished edge of your label after it gets cut. This is how you show the printer where you want them to cut.

Safe Zone: The printer doesn't need to see this line, they just need to know that you've given them a little wiggle room when they start cutting. You'll want to keep any critical type or design elements at least 1/8 of an inch from the trim line.

Rounded corners: Rounding the corners is ALWAYS a good idea. This keeps the corners from peeling back. You'll want to set the corner radius of the trim line at no less than 1/8 of an inch.
Always remember, we've got designers on call to help you with any design work that you need done. They're fast, skilled, talented, and don't have to spend the time teaching themselves how to do this ¦ because they already know! So don't hesitate to call us up and get a designer going on a project for you. Call 1-800-473-4144 and say, I need a designer. We'll do the rest!