Red, White, and Blue Patriotic Layered Jell-O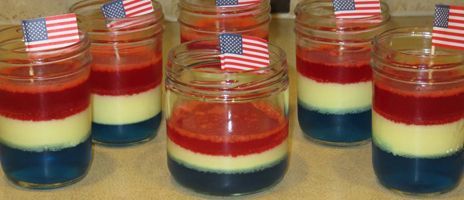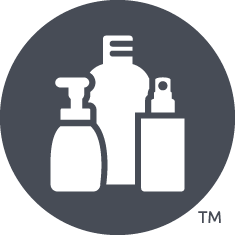 by Container and Packaging
September 8, 2020
, Updated July 14, 2021
The Fourth of July is just about here! This date is our country's birthday, when we commemorate the signing of the Declaration of Independence. It is a day filled with parades, barbecues, and fireworks. Along with those activities always comes food. What better way to celebrate our nation's birth than with Jell-O? Did you know that this gelatin dessert was advertised as America's Most Famous Dessert? That seems like the perfect treat for this holiday. And how about we make a patriotic dessert: red, white, and blue layered Jell-O!
When I was a kid, my older sister hated birthday cake. So each year, my mom would spend a whole day making her Rainbow Jell-O. This dessert is adapted from that recipe. In order to get a white (or off-white) layer, you mix lemon Jell-O with sour cream. This makes the layer nearly white, and the sour cream makes the Jell-O a tiny bit tangy. It cuts the sweetness just a bit, and makes a unique and gorgeous patriotic dessert.
Most of this dessert's allure comes from its appearance. Your friends and family need to be able to see what they are about to enjoy. To do this, make sure that you prepare and serve it in clear containers. You can use small glass jars like this 8 oz. clear glass jar or even a Mason jar like this one. If you would prefer to use plastic, go for a single-wall jar like this 6 oz. or this 8 oz. jar. Your containers should be no smaller than six ounces, and not much bigger than eight. The recipe makes seven ¾ cup servings of Jell-O, so plan accordingly for your containers.
Red, White, and Blue Layered Jell-O
Makes 7 ¾ cup servings
Hands-on time: 20 minutes
Total time: 4 hours
Ingredients
1 3-oz. package of blue raspberry Jell-O
1 3-oz. package of lemon Jell-O
1 3-oz. package of red Jell-O (any flavor)
¾ cup sour cream
Water as directed
Blue Layer
Boil 1 cup of water. Stir in blue raspberry Jell-O until it is fully dissolved. Add ½ cup cold water and stir. Carefully measure ¼ cup liquid into each jar or cup. Put the containers in the fridge and let set for an hour.
White Layer
Boil ¾ cup of water. Stir in lemon Jell-O until it is fully dissolved. Stir in sour cream and mix thoroughly. Carefully pour ¼ cup liquid on top of the blue layer, and return the containers to the fridge for another hour or until set up.
Red Layer
Repeat instructions for blue layer, using red Jell-O. Pour ¼ cup red liquid on top of set-up white layer. Refrigerate for two hours or until fully set. Decorate with a patriotic embellishment and enjoy!
I hope you enjoy making this fun summer dessert! Your guests and family will love this patriotic layered Jell-O, truly America's Most Famous Dessert! What is your favorite treat on the 4th of July? Leave a note in the comments below!
(Jell-O is owned by Kraft. This post is not sponsored by, nor affiliated with, Kraft or Jell-O brands.)