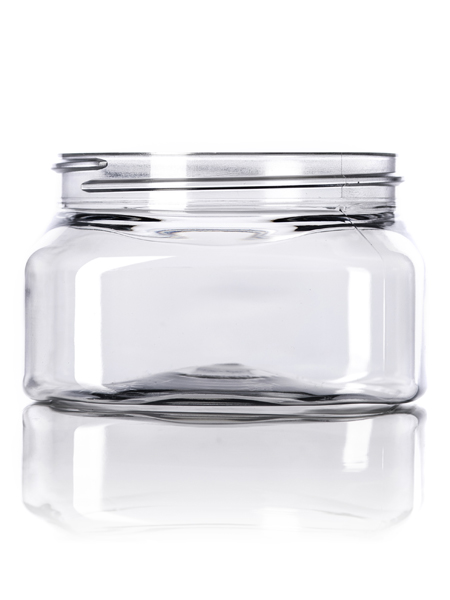 6 oz clear PET square firenze jar with 70-400 neck finish
Item ID
J024
Price

$0.51 each

for 539 or more

Quantity
The J024 is a 6 oz clear PET square firenze jar with 70-400 neck finish. Firenze jars are square shaped jars with wide mouths, round shoulders, rounded base, and rounded corners. This jar is made of polyethylene terephthalate (PET). PET is of the polyester family and is semi-rigid, and very light-weight. It has high clarity, is strong and impact-resistant. It has a good chemical resistance. Avoid using PET containers to store products that contain essential oils greater than 5% or fragrance oils greater than 15%. If your oil percentages exceed these respective levels, please consider using glass. This jar is typically used for lotion, cream, serum, gel, putty, clay, hair products, skin products, cleanser, and other personal care products. This jar has a 70-400 neck finish, and will fit closures with the same finish. The first number is the diameter of the container's opening (in mm). The second number refers to the thread/style/depth of the closure's skirt.
Label Specifications
The J024 can be labeled. Please visit our Services page for more information on labels and application, or hiring a designer to assist you in creating artwork for your package. If you have additional questions about decoration options for the J024, please order a free sample, talk to one of our customer care agents at 1-800-473-4144, or chat with us online.
Download label template (SVG)
Trim size: x (w x h), please keep all critical art at least 1/8 inch away from trim line.
Bleeds: Include 1/8 inch bleeds, and keep all critical art at least 1/8 inch away from trim line.
Color: Use CMYK color profile.
Acceptable file types: PDF, EMP, SVG. We prefer Adobe Illustrator and Adobe InDesign PDF files. We also accept Adobe Photoshop and EPS files. We cannot accept doc, docx, xls, pub, jpg, tiff, png, or bmp files.
Requirements: Provide all fonts with file or convert fonts to outlines. Any placed raster images should be at least 300 dpi CMYK files. We also accept 300 dpi CMYK Photoshop files, but vector art will yield a superior print.
Working with SVG: Our templates are scalable vector graphics (SVG) files. Your art should be created with software that produces vector art, preferably Adobe Illustrator or Adobe InDesign. Additional vector programs include: CorelDRAW Graphics Suite X7, Corel Paintshop Pro X7, Serif DrawPlus, and Microsoft Visio 2013. There are also free download apps that produce vector art: Inkscape, GIMP, Kolourpaint.
Previewing SVG files: You can see what the template looks like by downloading the SVG template and opening it in any web browser (e.g. Explorer/Edge, Chrome, Safari, Firefox, etc). CAUTION: Your web browser WILL NOT display the template to scale. If you print the SVG from a browser, it will not be the right size. you must open the SVG file with software that produces vector art. Please see "Working with SVG files" (previous paragraph) for more information.
Notices and Disclaimers
Orders for less than $50 of product (not including freight) will be subject to a $10 small order fee. Please review our small order fee.
All the items we sell have never been used, however, order in full case quantities to reduce dust, dirt, and scuffing.
We purchase from multiple manufacturers, so some items may have minor variation in color or shape. Avoid this by ordering in full case quantities.
Please remember, you are responsible for testing your product with packaging for compatibility.